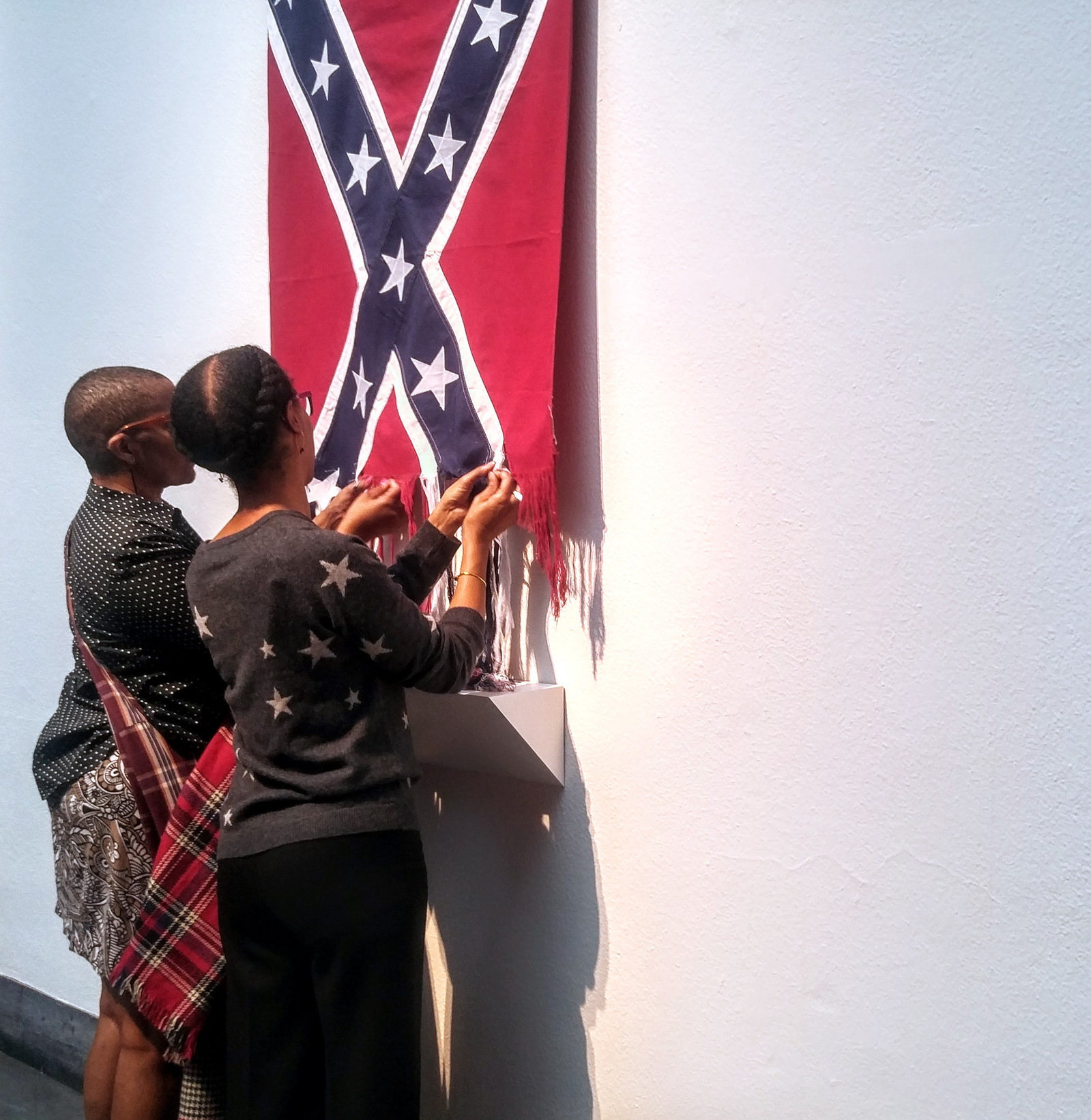 Pennsylvania Academy of the Fine Arts hosted a forum on Art and the Election 11.3.17. I was attracted to this artist talk because I, too, have been wondering "What is the role and responsibility of artists and art in helping a community process new realities?" This is the first line announcing the event, and it's a real hook to artist in these tense political times. We've all been processing daily the new realities that a forceful administration throws into the public sphere and the divisiveness within our society this causes. Some Americans feel justified and protected that their concerns are being addressed. Others are horrified with the rhetoric and policy eliminations taking place in the oval office. Most people in the room that night was the latter. I sat taking notes so I could capture what these two artists - Sonya Clark and Amos Kennedy - had to say about how they came to make such meaningful artwork.
Sonya Clark and Amos Kennedy talked for two hours with Brooke Davis Anderson- PAFA's new director of the museum, and an audience of around fifty. Slides of both artists' work currently on view at PAFA Museum flipped behind the speakers. Amos's prints are overlapping posters with slogans of influential voices from the past, such as a poster with the word "NO" as said by Rosa Parks. Sonya Clark's Unraveling is a partially deconstructed Confederate flag where the performance of unraveling the Confederate flag with visitors is the aim of the artwork. The mood was mellow and the artist shared their thoughts and feelings freely.
The takeaway for artists who want to raise awareness about current issues is to get others involved. Collaborate. Sonya Clark considers the Confederate flag a permanent monument that can't be taken down like other the Confederate statues around the country. Sonya says the Confederate flag must be unraveled one thread at time. The power lies in working to unravel the flag with others. At first, she unraveled the entire weave of the flag in her studio so there were three piles of thread: red, white and blue. But since racism is a social problem, it can only be solved socially. Deep thoughts arise when people slow down and work side by side, and she noted psychologist Ben Warner's research noting the power in bodies working side by side in a common goal. Amos adds never to give up to this sentiment.
The buzz I hear all the time is to paint what you know. Sonya and Amos use their training- textiles and printmaking respectively- to open a dialogue around racism in America. During questions, Sonia turned to Amos and said "we deal with racism everyday, everyday." Sonia relayed a gripping story from her childhood at a DC amusement park riding The Rebel Yell. Amos gives voice to statements of the past so people today can discuss them. Sonia works to talk side by side with people while physically taking apart a symbol of racism. It seems from this talk the purpose of artists in these charged times is to engage people in a dialogue about controversial issues. Sonya Clark and Amos Kennedy have done so at PAFA this Fall and I'm grateful.