The magazine Plein Air Painting boasts of being the most circulated artist magazine in the world. At first I was shocked that Artforum or Art News, which publish articles about museum and contemporary gallery shows, did not lead the art publishing market. But now I totally understand why Plein Air Magazine leads the way. It's totally accessible to everyone.

To be clear, plein air painting means painting outdoors.
I've recently started painting outdoors and it's transformed the way I think about painting. Outdoor painting is different than painting a landscape in the studio with set lighting and all the time in the world. Painting outdoors means just that: bringing the paints, brushes and canvas outdoors and setting paint to canvas.
But painting outdoors is easy and cheap and open to any age, any skill level and with minimal investment. Fancy brushes, easels and a variety of paint colors are not necessary to completing a compelling and interesting painting.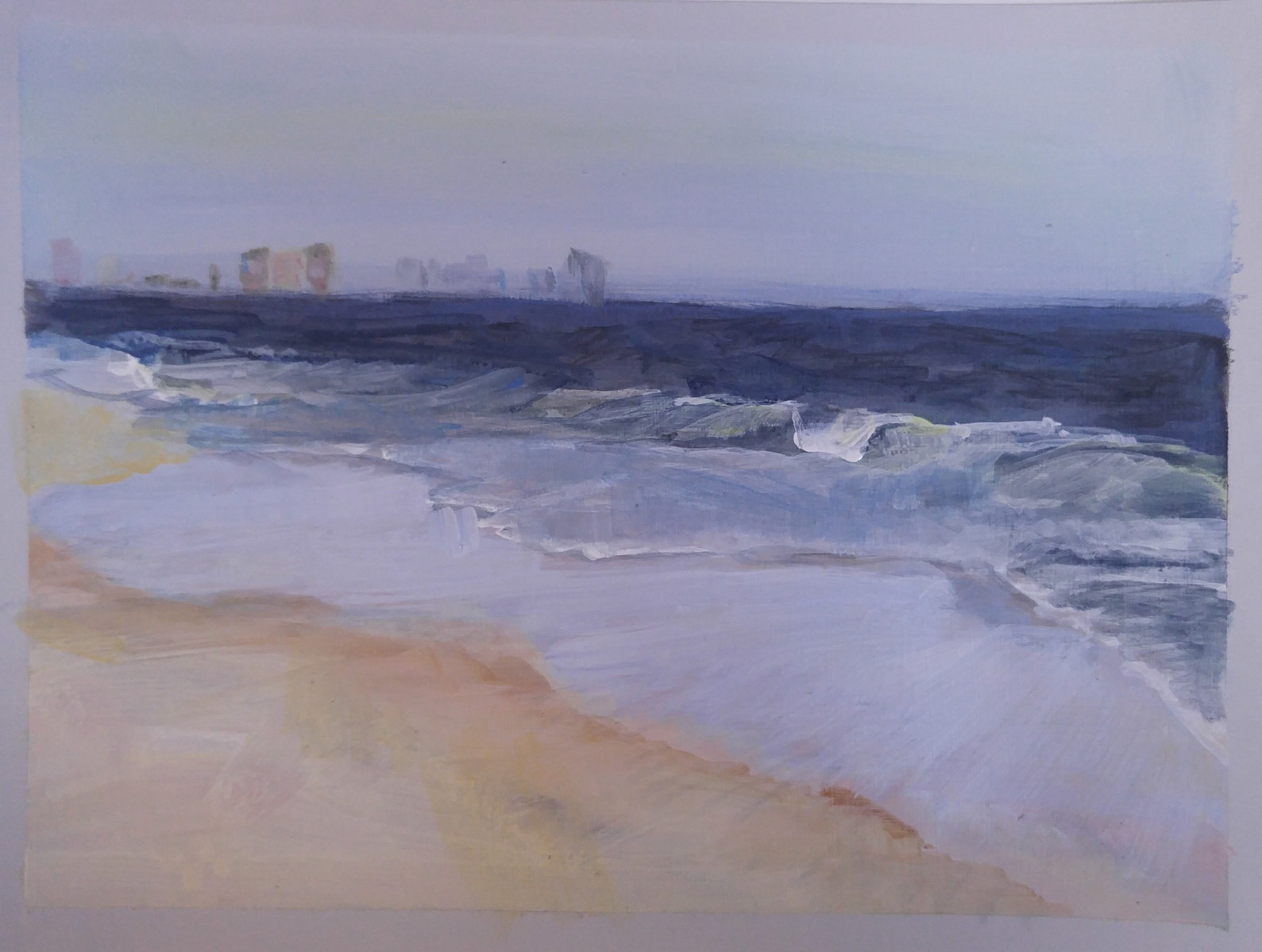 One painting set-up I've used is a wooden board with a nail as my easel and a shoe box lid lined with wax paper for palette. Honestly, it works just fine!
Invest in two or three brushes of varying sizes and shapes as well as paint of the three primary colors plus black and white- and you're out the door.
I let my own internal clock determine when I'll go outdoors to paint. Each time of day brings it's own shadows and shapes and each season shifts the colors in the landscape. I know one day I'll get up at dawn to capture the brilliant colors of the sunrise. One day.
Sure, outdoor painting can begin simply by mixing paint and pushing it around the canvas to see what happens. This is a valuable experience to grow as an artist but does not consistently lead to a finished painting.
To reliably make a finished outdoor painting, planning is necessary. There's a process I use that can take anywhere from five minutes to an hour to prepare.
It includes five steps: (1) Plan what large forms in the landscape to include, editing out information that would detract from the overall painting. (2) Draw a three or five value thumbnail. Value studies break shapes into light, middle tone, and dark regions. (3) Consider the focal point and composition of the canvas. (4) Complete an underpainting using the value study as a guide. (5) Add color to the underpainting.
I use this process for my own outdoor painting sessions and I teach this sequence in my classes. I love it because I won't get lost in the details of the landscape or the changes of the outdoor environment. And at the same time I'm free to use my own vision and perspective to create a unique painting. Each time.
I still like my studio landscapes but now I've found a new, accessible way to advance my craft.