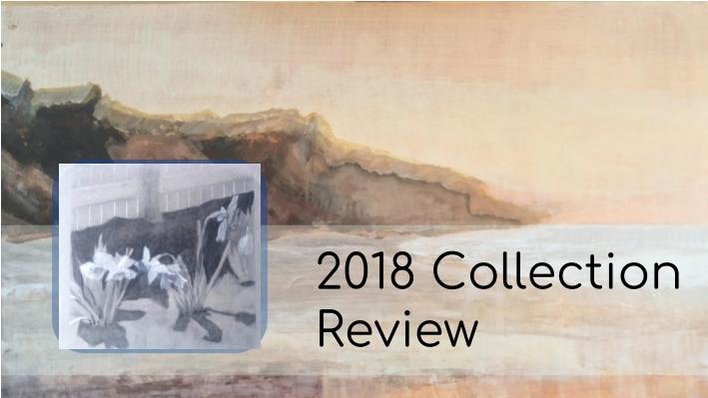 This is part 1 of 3 posts showcasing the 33 artworks that entered collections of friends, family and art-lovers this 2018. The ten paintings included here are portraits painted of people or animals from reference photographs I took or provided by the client. Thanks and onto the Collection Review!
SHALOM 10x8" ACRYLIC ON CANVAS 2018

A dark green background with a hint of red underpainting frames the smiling figure. Shalom's arms are crossed across his white suit as he gazes as the viewer smiling. I was interested in playing with complementary colors and framing, and I aimed to accentuate the white hair/suit connection.
BAM BIB BABY 12x12" ACRYLIC ON CANVAS 2018
The baby stares directly at the viewer with her arms out to her sides, as babies tend to do, but I cropped the curled fist in the lower left corner. The bib says, "I love clean air," which was not in the original reference photograph but was ad libbed as a statement against the US administration's stance on coal energy.
GRAHAM 10x10" ACRYLIC ON CANVAS 2018
This portrait portrays a chubby faced toddler in the car seat holding a stuffed animal. I was interested in playing with both warm and cool hues of the primary colors to depict how the cool light coming from the window played on one side of his face as the warm car light hit the other side.
KYLE 10x10" ACRYLIC ON CANVAS 2017
This frontal facial portrait is sharpest at the area of focus, the eyes and nose, and gradually soften to the ears. I was interested in capturing a moment of pleasant connection.
SALEH 16x12" ACRYLIC ON CANVAS 2018
In this three-quarter portrait a man in a suit gazes at the viewer while standing in front a low wall overlooking the city of Jerusalem in darkness. The flash used in the reference photograph illuminates figure with a slight silhouette. I was interested in capturing the proud man before the city.
NUDE BATH 20x16" ACRYLIC ON CANVAS 2016
A lone female washes nude in the shallows of a lake at dusk. A quiet moment with small vertical brushstrokes representing the slight movements of the water and sky.
SINGING GIRL 5x7" ACRYLIC ON PAPER 2018
This young girl squats and slightly leans forward towards the fire poker she uses as a microphone. Her stage is the fireplace, her costume is a blue leotard and the playful scene is complete with white jellies on her feet.
BROWN CHICKEN 10x8" OIL ON CANVAS 2018
This chicken portrait is a three-quarter turn bust with a solid bright yellow background. When taking a video of the group this chicken pushed her way over to me. I was impressed by the eagle-like stare and flowing feathers. I chose to capture the moment she searched me for signs of a treat, which I did not have.
BLACK CHICKEN 8x10" OIL ON CANVAS 2018
The profile of this black feathered chicken is set against a lime green background. The eye is pointed to the viewer while the lower body and tail trail off the canvas. I aimed to capture the curious and open nature of this pet, since she sang gently and stayed interested even though I did not have a treat to give.
GRANDMOM AT MOM'S WEDDING 3.5x2.5" oval ACRYLIC ON PAPER 2018
This tiny portrait was painted to be placed in a floral antique frame and given as a Christmas gift. The reference photo was taken from a group shot of my smiling young grandmom posing with my parents on their wedding day. I wanted to capture her joy, as well as her signature wig.